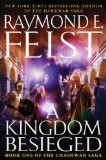 A Kingdom Besieged
Years ago, the Empire of Great Kesh failed in its attempt to conquer Krondor after the Serpentwar, thanks to the bravery, cunning, and magic of the sorcerer Pug and the Conclave of Shadows. Since then, peace has benefitted both nations, and the Kingdom has been free from the threat of another Keshian invasion. Yet now, the dark clouds of war gather again. . . .

From the Far Coast in the west to the frontier with the Eastern Kingdoms, rumors, uncertainty, and political instability are rampant. Spies have gone missing,some were murdered while others have turned traitor. Factions are rising, powerful legions from the Keshian Confederacy have been mobilized, and an attack on the kingdoms of the Isles and Roldem is all but certain.

As the men of the Western Realm begin to mount a defense, Martin conDoin, the middle son of Lord Henry, Duke of Crydee, finds himself leading the charge against the invaders,like his legendary ancestor, Prince Arutha, who stood firm to the death against the Tsurani invasion. But Arutha had an entire army at his command. Martin has just a ragtag force comprised of a few old men and young boys.

As Kesh's invading hordes once again descend upon the Kingdom, no one is safe,not experienced masters of intrigue Lord James Dasher Jamison and the beguiling and deadly Lady Franciezka; not the brave warrior Knight-Adamant Sandreena and a new generation of loyal yet untested defenders; not even the great Pug himself, the most powerful magician the world of Midkemia has ever known. A threat far more terrifying has arisen, an evil whose burgeoning power portends Midkemia's demise. And soon even the Kingdom's enchanted defender will find himself questioning everything he's ever held abiding, true, and treasured . . . including the loyalty and desires of his beloved son, Magnus.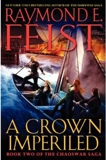 A Crown Imperiled
War rages in Midkemia once again, and behind the chaos, disquieting evidence points to dark elements at work.

As enemies march across the realm wreaking destruction, its brave and loyal defenders battle to survive, a struggle made more perilous now that Jim Dasher's trusted intelligence network has been cleverly dismantled. Region by region, Midkemia is being ripped apart, and the loyal spy and his allies find themselves overpowered at every turn.

Signs of the kingdom's impending doom surround them. King Gregory of the Isles has yet to produce an heir. Roldem and Rillanon have each been plagued by palace coups that threaten to topple their thrones. Lord Hal of Crydee and his great friend Ty Hawkins, champion swordsman of the Masters' Court, have been entrusted with smuggling Princess StephanÉ and her lady-in-waiting, the lovely and perplexing Lady Gabriella, out of Roldem to safety. But the rising danger has made finding refuge treacherous.

Nowhere is safe, including Ylith, Midkemia's strategic bastion, where Hal's younger brothers Martin and Brendan hold off an onslaught of brutal Keshian Dog Soldiers and a mysterious force from beneath the sea. Yet courage alone is not enough to withstand the continued enemy assault. Without reinforcements, hope of success fades. Martin, Brendan, and their compatriots know that while losing Crydee, the legendary city on the kingdom's edge, would be devastating, the realm can still be saved. But if Ylith falls, all is lost.

As Jim, Hal, and all their brothers in arms fight for their lives, Pug and the Conclave of Shadows embark on a magical quest to hunt down the dark force orchestrating the destruction before Midkemia is annihilated. And time is running out...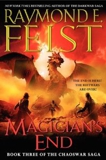 Magician's End
Three decades...Five Riftwars...One magnificent saga: Magician's End is the final book in New York Times bestselling author Raymond E. Feist's science fiction epic Riftwar Cycle.

Thirty years ago, Feist's first novel, Magician, introduced us to an orphan boy named Pug, who rises from slavery to become a Master Magician, and to Midkemia and the Riftwar, an epic series of battles between Good and Evil that have scarred Pug's world for generations.

After twenty-nine books, Feist delivers the crowning achievement of his renowned bestselling career: Magician's End, the final chapter in The Chaos Wars, the climax of his extraordinary Riftwar Cycle.

Pug, now the greatest magician of all time, must risk everything he has fought for and everything he cherishes in the hope of destroying an evil enemy once and for all. But to achieve peace and save untold millions of lives, he will have to pay the ultimate price.