Talon of the Silver Hawk
Among the Orosini tribe, the traditional manhood ritual begins three days before the Midsummer's celebration. Alone, the child must survive the wilderness; exploring remote climes, contemplating the lore of his family and clan, his tribe and nation, and seeking the wisdom of his ancestors in a search to understand his place in the universe and discover his manhood name. Kielianapuna -- red squirrel -- is struggling. For two days and two nights he has waited for the gods to grant him a vision, the key to their plan for him, but so far he remains cold, lonely and despairing, and on the brink of giving up. Returning to his village, nameless and still a child, he stumbles upon devastation. His village is being burned, his people slaughtered, but as he hurries to help his family Kieli is struck from above. Sharp claws pierce his shoulders as a rare silver hawk lands and takes flight again just as swiftly. His vision or a warning?

Talon of the Silver Hawk takes place in the Eastern Kingdoms on the far shores of Triagia.

Rescued, recruited, and trained by the mysterious Conclave of Shadows, Tal Hawkins, hero of Talon of the Silver Hawk, has become one of their most effective operatives. But to destroy the nemesis who annihilated his people, the Duke of Olasko, Tal must sell his soul. Masquerading as a noble from the far western territory of the Kingdom of the Isles, he must insinuate himself into the duke's confidence and carry out his most heinous and dangerous commands even though it means betraying his own moral code. Driven to the brink, Tal eventually defies the duke—and is imprisoned and left to die in the Fortress of Despair. But the determined young man will not be beaten. Alone, armed only with his courage and wits, Tal makes a daring escape. And now, he vows, he will finally bring revenge on his hated enemy.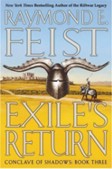 Once absolute ruler of his nation Kaspar, former Duke of Olasko, has been cast into exile. Abandoned in the wilds of a continent on the other side of the world and left with nothing but his wits and determination, he must fight merely to survive. Armed with guile, cunning and an iron will, he starts his odyssey with a single goal: to return to his home and revenge himself upon the man who cast him down, Talwin Hawkins. But fate has other plans for Kaspar, and as he struggles against adversity, he encounters dangers greater than any he had imagined. More is at stake than he realized and Kaspar is but a single player in a far greater game than he imagined, for pitted against the Conclave of Shadows are the agents of the Dark Empire, a looming menace that threatens not only Kaspar's homeland, but the entire world of Midkemia.