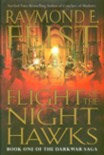 Flight of the Night Hawks
A new evil threatens Midkemia, its web stretching from the deepest criminal underworld all the way up to the highest seats of power in ancient Kesh. And the Conclave of Shadows, charged unexpectedly with the training of two apprentices, must also best powerful agents of the darkest magic . . . for the fate of two worlds lies in the balance.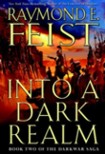 Into a Dark Realm
The Conclave of Shadows has smashed the Nighthawks' dread plot to destroy the Empire of Great Kesh through civil war, putting an end to the murderous brotherhood's reign of terror. But there is no time for the victors to celebrate, for the mad sorcerer, Leso Varen, has taken refuge with the Magicians of the Assembly on the world of Kelewan, and is lost among the most powerful men and women of that empire. And a devastating new threat looms on the horizon: hordes of the Dasati -- the most vicious warriors in the known universe -- are massing to overrun both Kelewan and Midkemia.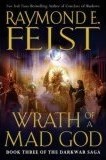 Wrath of a Mad God
The Darkwar rages upon Midkemia and Kelewan, bringing bleak days of destruction and despair. To save the future of both worlds, the powerful sorcerer Pug and select members of the secretive Conclave of Shadows must journey deep into the dangerous realm of the bloodthirsty Dasati, there to carry out an audacious mission that has little, if any, chance of succeeding. In Midkemia, young warriors Tad and Zane, and their fellow soldiers, protect the Kingdom from raiders. And Pug's beloved wife, Miranda, finds herself a prisoner of the Dasati and, even more ominously, of Pug's nemesis, the evil sorcerer Leso Varen. Salvation may come from a friend thought long dead, an unlikely ally whose remarkable powers will be sorely needed in the momentous battle to come . . . a final, fevered onslaught against the most malevolent agents of evil ever known.